What is an ambassador?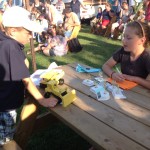 The mission of the Lincoln County 4-H Ambassador program is to empower teen 4-H leaders with the knowledge, skills and aspirations necessary to be effective advocates for Lincoln County 4-H Youth Development. We strengthen and expand upon 4-H Ambassadors' current leadership abilities so that they may serve as positive role models for younger youth; build meaningful partnerships with other teens, adult volunteers, and 4-H professionals; and promote the 4-H mission in Lincoln County.
Applications are due November 1 as part of the part of the Older Youth Opportunities Resume Process (see 2017-2018 Older Youth Opportunities Resume Guide).
The Lincoln County Ambassadors Advisors were:
We are currently looking for additional Ambassador Advisor (s).  Contact Becky or Debbie if you are interested.