Tell us your extension story!
(Note: These were just a few comments made by stakeholders during Lincoln County Extension's 100 year celebration in 2020). 
Please tell us about your connection to UW-Extension!  Are you a Volunteer? Community Partner? Program Participant?  Observer?  More them one?  Something else?
What do you value about UW-Extension?
How has UW-Extension impacted your life?  family? community?  organization?
Do you have some history to share?
What else can you share?
Georgia of Bridge Clinic values Lincoln County UW-Extension because "for almost 2 decades I have been fortunate to be a community partner with the UW-Extension.  On all the projects over the years, the Merrill team has been so collaborative & helpful.  Congrats on your anniversary :)"
4-H Youth Volunteer and Participant, Stevie, says he values Lincoln County UW-Extension because "they have helped to make me who I am.  Without the leadership and resources they provide I would not have developed the same skills."
Wisconsin Nutrition Education Program (WNEP) Cooking Class Program Participants at Jenny Towers say they value Lincoln County UW-Extension because…
"it has opened my eyes to things different I can eat."
"I enjoy the lessons that she presents to us."
"of the food that we make and us learning a lot of things."
"they have nice topics and different subjects.  I also enjoy the fruit and vegetable topics."
"I am learning a lot about how much and what to eat.  Would like chocolate tho 🙂 Debi is very easy to talk to and make it interesting."
"it has been very helpful to learn healthful eating."
"they give information."
"it is at Jenny towers where I live."
"Debi is a very good teacher and helps people understand things better."
"I enjoy the nutrition classes – I've learned a lot."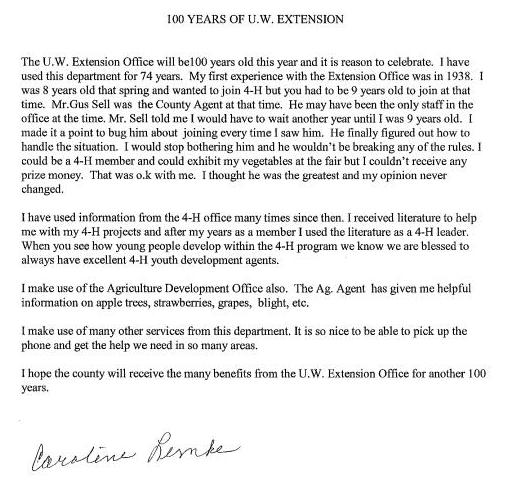 UW-Extension values your thoughts ideas and stories!  Please share with us!