The County Fair is an exciting time for 4-H members. The heart of 4-H is to "learn by doing" and throughout the year, 4-H members work on a variety of projects.  These projects help teach 4-H'ers about working with others, making decisions, time management, fiscal budgeting and taking responsibility. The fair is the opportunity to show off these hard earned skills to the public.  It's also an opportunity to have their finished projects judged on their quality of workmanship and what they have learned while working on their projects. Although competition is an important part of the fair, the real lesson comes by cultivating the courage to show their work to the public and open themselves up to constructive criticism. In this way the fair isn't the end of the end of the process, rather is it the beginning of becoming even better.
What you need to know to enter the Lincoln County Fair
Since the exhibits you enter into the fair are based on the projects you take in 4-H, the process of entering into the Lincoln County Fair starts as soon as you sign up for 4-H.  It's important to know all the the various deadlines and requirements you need in order to participate in the fair.  For a complete rundown on the process, visit the 4-H at the Fair page!
4–H Projects vs. County Fair Exhibits
What's the difference between 4-H projects and fair exhibits? A 4–H "Project" is an area of interest you want to learn more about (like a hobby). This is what you sign-up for during enrollment in 4-HOnline (i.e. horse, electricity, dogs, photography, etc.). A project is intended to help you explore, learn, and practice skills in your areas of interest. Youth must choose their projects at the time of enrollment so they have plenty of time to learn about or practice with their project area before the fair.
A County Fair "Exhibit" is what you actually take to the fair – like the cabbage you grew, the animal you trained, or the rocket you built while exploring and learning about your projects. There are always things you do while exploring your project area that you do not take to the fair as exhibits and that's ok. And not everyone is comfortable in showing their work and putting it up to be judged.  It's important to remember, though, that the point of a project is to learn how to do something new and better.  Being courageous enough to enter something in the fair, will allow the judged to give you to give comments, feedback and pointers on how you can improve.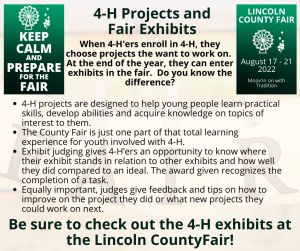 Lincoln County 4-H youth can display their time and talents in the Jr. Department at the Lincoln County Fair.
Important Dates:
June 1st, 2022 – Last day to add or change projects in 4-H online
July 15th, 2022 – Last day to enter projects in the fair — Link to fair entry will be posted when it goes live
August 17 – 21, 2022  – Join us at the Fair