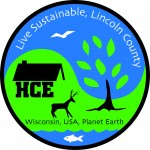 Live Sustainable, Lincoln County is a non-profit organization that works to help people lead more environmentally friendly, fair and economical lives for the good of their families, their community and the planet.
Live Sustainable Lincoln County brochure
Upcoming Live Sustainable Programs
Live Sustainable, Lincoln County is hosting a tour of Grandview Orchard and Canopy Gardens in Antigo on Tuesday, September 10th.   Grandview Apple Orchard is located at W8086 County Road F, Antigo. Please meet at the orchard site at 5 p.m. that evening.  Then it's on to Canopy Hydroponic Gardens, just down the road at N 3000 Orchard Road, Antigo.
Grandview Orchard is owned and operated by Lisa Rettinger, an Antigo native who is a complete fanatic about local food and regenerative agriculture.  2019 will be Lisa's fourth growing season and she is excited for you to come out and enjoy the orchard!  Grandview Orchard is over 100 years old, and is a beautiful "old style" of orchard with free-standing trees that are not trellised.  It is a very rare orchard with the apples being produced completely free of synthetic chemicals.  Over 30 varieties of apples are either grown or coming into production.
Canopy Gardens produce is grown hydroponically.  This means the family grows their plants in a water/nutrient solution rather than soil.  This soil-less/controlled-environment agriculture gives plants ideal conditions for growth and the highest quality produce available.  Canopy Gardens produces a vine-ripened, hand-picked product that has not been genetically altered or sprayed with harmful pesticides or herbicides.  Their produce features firm texture and is naturally rich in flavor and vitamins.  Canopy Gardens grows vine-ripened beefsteak tomatoes, on-the-vine cluster tomatoes, European seedless cucumbers, grape tomatoes, and basil.  They also make salsa.
You do not need to be a member of Live Sustainable to attend, although new members are always welcome! Live Sustainable, Lincoln County welcomes your new ideas and strategies for future programming.  Additional information may be found at U W Extension office at the Lincoln County Office 801 N. Sales Street Merrill or by calling 715-539-1072.
Resources