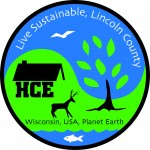 Live Sustainable, Lincoln County is a non-profit organization that works to help people lead more environmentally friendly, fair and economical lives for the good of their families, their community and the planet.
Live Sustainable Lincoln County brochure
Upcoming Live Sustainable Programs
Live Sustainable Hosts Program about Native Plants for Birds, Butterflies and Beyond
You've put your garden to bed.  Your lawn is dormant.  Resting is an important part of the life cycle, but so is planning ahead for the birds and bees.  Learn with Live Sustainable Lincoln County about Native Plants for Birds, Butterflies, and Beyond.  Join us Tuesday, November 12th at 6 pm in Lincoln County Service Center Lower Level Room 156 at 801 N. Sales Street, Merrill.  Molly McKay, Langlade County Conservationist, will share some principals of birdscaping and pollinator habitat creation as well as specific plants that can be used.
Birdscaping is landscaping for the birds! With thoughtful plant choices (we love varieties that are native to Wisconsin), you can make your outdoor spaces (no matter how big or small) better for our feathered friends.
Learn to create islands of native nectar plants for pollinators.  Why are pollinators important?   Approximately three quarters of the world's major food crops require or benefit from animal pollination.   This includes many fruits and vegetables.   Pollinators also are beneficial for seed production in crops such as carrot, onion, broccoli, cauliflower, cabbage, and many herbs.  What pollinators are common in Wisconsin?   Pollinators in Wisconsin are primarily insects such as bees, flies, wasps, butterflies, moths, beetles, and ants, as well as hummingbirds.
Molly McKay is the Conservationist for the Langlade County Land Conservation Department.  Prior to her work as a conservationist she worked as a naturalist and environmental educator, leading students to explore the natural environment and bringing bird ambassadors into classrooms.  Molly holds B.S. in both Environmental Education and Biology from UW Stevens Point.   She is an avid naturalist and lover of birds, plants, and all of the outdoors.
You do not need to be a member of Live Sustainable to attend (although new members are always welcome). We encourage audience participation, questions, and your ideas for future programming. Live Sustainable, Lincoln County (LSLC) is a county wide non-profit organization that works to help people lead more environmentally friendly, fair and economical lives for the good of their families, their community and the planet. Additional information may be found at U W Madison Division of Extension at the Lincoln County Office 801 N. Sales Street in Merrill or by calling 715-539-1072
Resources