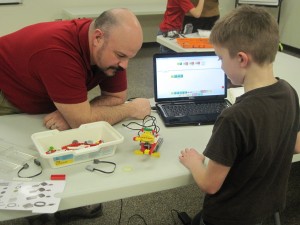 Have you ever wanted to build a robot and then program it to do some thing?
The Lincoln County 4-H Robotics group was organized in 2016 to provide an opportunity for youth to discover the world of robotics by building and programming robots.  4-H Leaders, Pat Chieves and Peter Schuetze have established the following calendar for the rest of 2018:
No meeting in July, August.
September 4, 2018
October 2, 2018
November 6, 2018
December 4, 2018
All meetings will be held at the Lincoln County Service Center at 801 North Sales Street in Merrill in Lower Level Conference Room 156.  Meetings begin at 6 p.m. and normally last about 2 hours.
So if you love a challenge…please come join this group.  Other adult leaders are encouraged and welcome to attend.
If you have any questions regarding the 4-H Robotics Group, please contact Pat  at 715-218-9044 or via email at ptctrigger@yahoo.com.
You will also find additional information about the 4-H Robotics projects on the project pages of the Wisconsin 4-H website under STEM.  Information found here includes a listing of 4-H literature for each project, statewide events and additional resources.