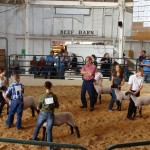 2017 Meat Animal Quality Assurance
Quality assurance programs improves consumer perception of youth shows;  improves the management and health practices of youth exhibitors; and teaches life skills of record keeping, decision making, general responsibility and care.  During this year's program we will be covering animal health products.  The Lincoln County Training will be held on Monday, May 8, 2017 from 6 to 8:30 p.m. at the Lincoln County Service Center at 801 N. Sales Street in Merrill.  Please register by Monday, May 1st using the form below.
2017 Lincoln County MAQA flyer
For a list of MAQA trainings offered in Wisconsin, go to the MAQA Meetings page of the State Livestock webpage.
Veterinary Feed Directive Changes Beginning January 1st
Beginning January 1, 2017 medically important antibiotics in feed will no longer be available to use for growth promotion on any farm of any size.  Medically important antibiotics are used by dairy, livestock, and poultry but are also important to human health.  Under this new rule, called the Veterinary Feed Directive (VFD), you will need direct veterinary supervision if these antibiotics are used to prevent, treat, or control specific diseases.  The Wisconsin Youth Livestock Program FYI site, fyi.extension.wisc.edu/youthlivestock/vfd, has more information on the VFD rule and how it will affect youth producers.
For MASS members, the VFD rules will be covered at the MAQA (Meat Animal Quality Assurance) workshop in early spring.
Archived recordings of the 2016 Livestock Learning Webinars
Archived recordings of the 2016 Livestock Learning Webinars can be found on the WI 4-H Youth Livestock page at: https://fyi.extension.wisc.edu/youthlivestock/programs/livestock-learning-webinar-series/
Scroll on this page and you will find the ppt slides and audio files for the:
February 25 session that was focused on Beef and Swine
March 31 session geared to sheep/meat goats.
These sessions were designed for older youth and are great tools for these members further their leadership , sportsmanship career exploration skills available to them beyond high school.
There are also archived recordings from the 2014 Livestock Learning Webinar series that are focused more on the beginning project member.
Lincoln County Market Animal Show and Sale Project
4-H members who enroll in the 4-H beef, sheep or swine project(s) have the opportunity to participate in the Market Animal Show and Sale project.
Lincoln County Market Animal Show and Sale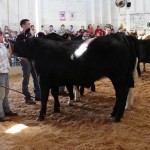 Wisconsin Youth Livestock Website and social media
Subscribe to get email notifications of new information on https://fyi.extension.wisc.edu/youthlivestock, its on the right, enter in your email address and hit submit.  Bookmark this website!
ON the site are links to like the Facebook, twitter and Google+ accounts for more information and resources.
You will also find additional information about the 4-H Beef, Sheep and Swine projects on the project pages of the Wisconsin      4-H website under Animal Sciences.  Information found here includes a listing of 4-H literature for each project, statewide events and additional resources.