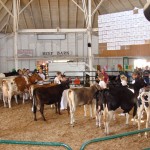 The purpose of the dairy project is to be a learning experience while having fun and promoting dairy to the community.  Focus is on the young people and the skills they are gaining from their project experience, not the animals themselves.
The Junior Dairy Committee composed of seven youth who work with their adult advisor to provide leadership for educational opportunities for youth involved in the dairy project in Lincoln County.  Membership for this committee is elected at the fall meeting.
2017-18 Jr. Dairy Group Bylaws
Upcoming Dairy Opportunities:
2019 Informational Meeting Notice
Veterinary Feed Directive Changes Beginning January 1st
Beginning January 1, 2017 medically important antibiotics in feed will no longer be available to use for growth promotion on any farm of any size.  Medically important antibiotics are used by dairy, livestock, and poultry but are also important to human health.  Under this new rule, called the Veterinary Feed Directive (VFD), you will need direct veterinary supervision if these antibiotics are used to prevent, treat, or control specific diseases.  The Wisconsin Youth Livestock Program FYI site, fyi.extension.wisc.edu/youthlivestock/vfd, has more information on the VFD rule and how it will affect youth producers.
State 4-H Dairy Project Information –  This website contains information about state dairy opportunities and other helpful resources.