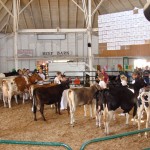 The purpose of the dairy project is to be a learning experience while having fun and promoting dairy to the community.  Focus is on the young people and the skills they are gaining from their project experience, not the animals themselves.
The Junior Dairy Committee composed of seven youth who work with their adult advisor to provide leadership for educational opportunities for youth involved in the dairy project in Lincoln County.  Membership for this committee is elected at the fall meeting.
Lincoln County Diary Project Information
2022 Mandatory Meeting Notice (pdf, 2 pages)
Potential Dairy Exhibitor Mandatory Informational Meeting – Tuesday, June 7th at 7 pm in the Upper-Level Assembly Room at the Lincoln County Service Center (801 N. Sales Street in Merrill – enter lower level/south entrance and follow the signs to the meeting room).  Individuals who are considering exhibiting in the Jr. Dairy department and their parent/guardian must attend this informational meeting to show at this year's Jr. Dairy Show.
2022 Jr. Dairy Project Record (pdf, 2 pages)
Jr. Dairy Group Bylaws  (pdf, 3 pages) Bylaws updated Nov. 2018
State-wide Dairy Project Information
Wisconsin 4-H Dairy Project page provides a listing of 4-H literature or the dairy project, statewide events, and additional resources.
Wisconsin Dairy Youth page provides information on upcoming events and topics important to 4-H and FFA members in Wisconsin.