1. 4-H is everywhere — and any where!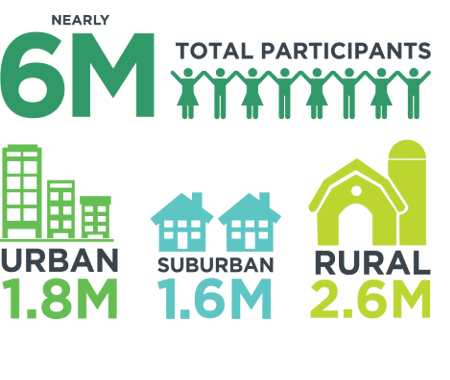 4-H started out 100 years ago as an organization for kids who lived in the country, but that was a long time ago. Now 4-H is in big cities, in small towns and suburbs and in rural areas. 4-H clubs meet in community centers, members' homes, Extension offices, afterschool program sites — just about anywhere.
2. In 4-H you can do anything  — or your own thing!
There are lots of great projects and opportunities, you get to meet new friends and try things you haven't done in school or in other youth clubs. Lincoln County 4-H has over 150 different projects to choose from.  What to do something uniquely you?  Create your own project!  4-H allows you to travel and meet new people.  You can go to summer camp or take part in a trip to learn more about Wisconsin or be a delegate to National 4-H Conference.  You  could be part of a state-wide drama or musical group.  Or show at the state fair. You can even travel overseas!
3. 4-H can lead you to the stars — or to be one.
4-H influences people's lives in many ways. Many of the top entertainers, athletes, business individuals and educators got their first start in 4-H. Here is a list of just a few famous 4-H alumni: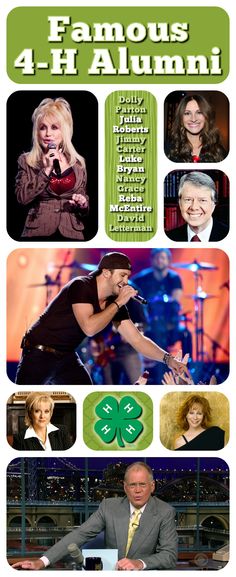 Business Men & Women: Norman Brown – President and CEO of W.K. Kellogg Foundation, Zoe Coulson – Vice President of Campbell Soup Company, James Glass – Executive Vice President of The Goodyear Tire and Rubber Company, Karol Nickell – Vice President and Editor in Chief of Better Homes & Gardens Mag, Harold Poling – CEO Ford Motor Company, Orville Redenbacher, founder of Orville Redenbacker Popcorn, Nancy Zieman – CEO of Nancy's Notions
Politicians: Al Gore – Former Vice President, Jacqueline Kennedy Onassis, Pat Nixon, and Rosalynn Carter – U.S. First Ladies, Among many Congressmen, Senators, and Governors
Sports & Entertainment: Bret Bielama – University of Wisconsin Football Couch, Reggie White – NFL Green Bay Packers Football Player, Archie Manning – Former NFL MVP, Jim Davis – Creator of Garfield Comics, Johnny Carson – former Talk Show Host, David Letterman – Talk Show Host, Roy Rogers – Actor
Education Influences: Drew Faust – President of Harvard University, Dr Howard Lamar – President Emeritus Yale University, James Martin – President of Auburn University, Dr David Wilson – former Chancellor of University of Wisconsin Colleges and UW-Extension
NASA Astronauts: Bonnie Dunbar, Ellison Onizuka, Jerry Ross, Alan Shepard, Donald Williams, and Peggy Witson
Country Music Stars: Luke Bryan, Glen Campbell, Johnny Cash, John Denver, Vince Gill, Faith Hill, Reba McEntire, Jennifer Nettles, and Dolly PartonMyth: 4-H is too much like school.