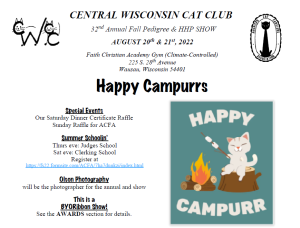 Be a part of the 32nd Annual Purebred & Household Pet Cat Show August 20 & 21, 2022.
The Central Wisconsin Cat Club is proud to host the National show for the American Cat Fanciers Association. This show will be held at Faith Christian Academy School Gym (Formerly St. Matthew's School), 225 S. 28th. Ave., Wausau, WI 54401.
Admission will be $4.00 for adults and $2.00 for children. The show is open to the public from 9 am to 4 pm on both days.