A century is 100 years — so why not celebrate the Lincoln County centennial by doing 100 of  ANYTHING? Choose something you love to do and do it 100 times to celebrate the Lincoln County 4-H Centennial!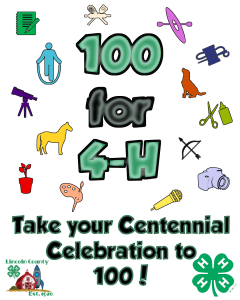 Do 100 jumping jacks or sit-ups
Walk 100 steps or yards or miles
Do 100 acts of kindness
Harvest 100 beans or potatoes or ears of corn or…
Sew 100 masks
Draw 100 pictures
Ride a horse or a bike or a kayak 100 times
Go on a 100 hikes
Build 100 things (out of wood or Legos or playdough or…)
Take a dog for a walk 100 times
Write 100 poems or stories or jokes or…
Read 100 words or pages or books
You don't have to go it alone!  Choose something big, recruit some friends, and divide the work up!  Want to can 100 jars of jam?  Find 10 people to work with and you each only have to can 10 each.  Your choices are as big as all of 4-H!  Decide what you want to do and do it (100 times)!
Take some pictures and remember to wear or display something that says "Lincoln County 4-H".  Then go to bit.ly/100for4H and let us know what you did. We will put it up on Facebook and share it with the world!