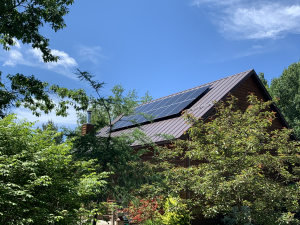 Grow Solar Central Wisconsin will launch the fourth year of its group buy program. The program, which began in 2017, offers the opportunity to learn more about solar energy and to access more affordable pricing on solar installations during 2020.
The Cities of Stevens Point and Wausau, Mid-State Technical College, and the Midwest Renewable Energy Association (MREA) are supporting the bulk solar group purchase program for residents, farms, and businesses throughout Lincoln, Marathon, Portage, and Wood Counties. Northwind Solar has been selected as the program's solar installation contractor.
Past years of the Grow Solar Central Wisconsin program showed that Wisconsin residents are ready for their own renewable energy systems. Since 2017, 130 home and business owners installed solar on their properties through the program. These arrays are calculated to reduce 1.67 million pounds of carbon emissions by avoiding .83 million pounds (over four rail cars) of coal consumption in their first year alone. This is equivalent to the annual carbon sequestration of 988 acres of U.S. forests. (Source: EPA Greenhouse Gas Emissions Equivalencies Calculator).
Solar energy also helps lower the cost of utility bills. The systems installed through the 2019 Grow Solar Central Wisconsin program will yield an average yearly utility savings of $48,620 in the first year for the property owners.
"We are very pleased with the entire process from the very beginning by attending the seminar through the installation," say Marv and Kathy Somers of Stevens Point. "The overall experience has been great!  I don't know how you could possibly improve. Everyone was so friendly, professional, and knowledgeable.  We couldn't be more pleased!"
Over the next few months, Grow Solar Central Wisconsin will provide several free, hour – long virtual educational sessions for members of the public. These "Solar Power Hours" will give prospective participants information about how solar energy works, the financial costs and incentives, why solar group buy programs are effective, and where to get started in the solar installation process. New this year as a response to staying safe and physically distant during the COVID-19 pandemic, the program will offer webinars and on-demand learning modules to the public.
The program's website, CWSolar.org, includes a sign-up form where area residents and business owners can elect to receive an estimate, general program updates, and Solar Power Hour announcements.
"Because so many people are working from home now, lowering electricity bills is more important than ever," said Peter Murphy, Solar Program Director for MREA. "There's a huge demand for information about solar, and we're demonstrating that solar and energy efficiency can help lots of people lower their bills and improve their quality of life."
The Midwest Renewable Energy Association (MREA) has facilitated 34 programs throughout the Midwest in Wisconsin, Minnesota, Illinois, Missouri, and Iowa. They have reached over 8,000 individuals resulting in solar installations on more than 1,600 properties.
The solar installer for Grow Solar Central Wisconsin, Northwind Solar, was selected through a competitive request for proposals that were reviewed by an advisory committee looking at professional certification, experience, and price. Their Amherst-based crew and service team are NABCEP credentialed, committed to trusted customer service, has a full sales, installation, and service team located in central Wisconsin, and returns as the program's installer for the fourth year.
Grow Solar Central Wisconsin enables residents to effectively save resources and improve local energy security through the generation of renewable energy while simultaneously conserving energy and reducing long-term energy costs.
The first of many free Solar Power Hour presentations are as follows:
Sign up, register for a webinar, and learn more at CWSolar.org.